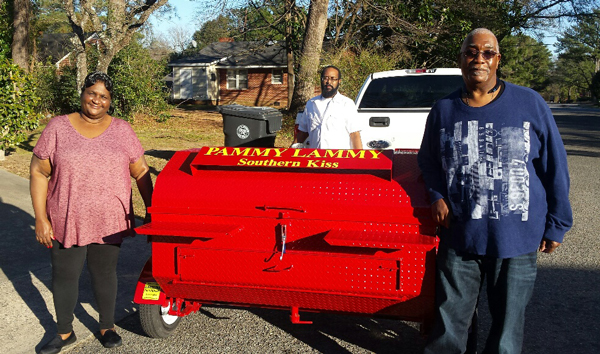 February 17, 2017
…
Jessy purchased a Carolina Pig Cooker based on the recommendation of her son, (standing behind the cooker above) who purchased one of our cookers a year or so back.
Jessy and her son will do some catering, featuring "Soul Food" which is why she added "Southern Kiss" to the nameplate on her cooker. Jessy wanted the name "Pammy Lammy" placed on the cooker to honor and remember her late sister named Pam. She said they all called her Pammy Lammy.
Jessy purchased:
5ft Red
Wood-Charcoal
Dual Outside Burners
Nameplate with lettering
We wish you all the best on your new venture Jessy. It was a pleasure meeting your family and we know you're going to be cooking up some great food on your new cooker.
We sincerely appreciate your purchase.
The Gordon Family
..
Category: New Customers, Photo Gallery