Price Increase Ahead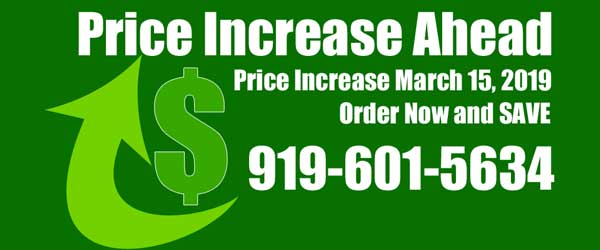 …
Order NOW and SAVE
On March 15, 2019, we will make our first price increase since July of 2015.
We do our best to hold our prices and give you the best product we can produce at the best price we can offer it to you for.
Due to an increase in material costs, we will be increasing the basic prices of our 3ft, 4ft, and 5ft cookers on March 15, 2019.
At this moment, we are not sure what that price will be, but we will post those here just as soon as we can. Please check back soon for more information.
Until March 15, 2019, you can place an order for your custom cooker at the current prices listed here on our site. We will not be able to offer these prices beyond March 15, 2019 however.
All we ask is for a 200.00 deposit when you place your order. The balance is due when you pick up your cooker or have it delivered. Normally we can complete your order within 7-10 business days from the date you place your order.
We've been building our cookers since 1998 and have never had one returned. We're very proud of that fact, and we strive each day to build the best cooker anywhere around.
We have multiple thousands of satisfied customers. We'd like to have you on that list as well.
Each of our cookers are custom built here in North Carolina. We cut, bend, form and weld your cooker one at a time. Handcrafted just for you.
We'd love to build one for you. Please give us a call TODAY and place your order before the price increase. We look forward to talking with you soon.
Call Elvin Gordon – 919-601-5634
We'll be happy to answer any questions you might have about our cookers, and can take your order whenever you're ready. We'll never try to pressure you into buying our cookers. We don't have to.
You Know You Want One.
Be Blessed!!!
The Gordon Family
..