Pig Cookers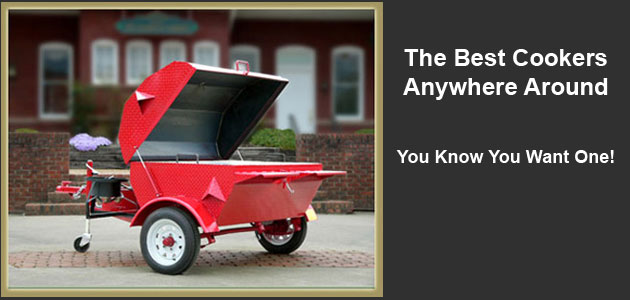 If you're serious about grilling, we've got your cooker.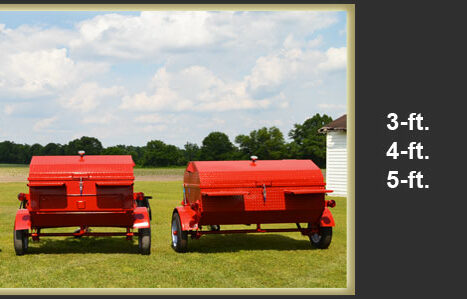 NOTE: We are no longer making the 3ft cookers. Only 4ft and 5ft.
All we ask is for a 200.00 deposit to begin building your custom cooker.  It normally takes 7-10 days to complete your order. Balance is due on pick-up or delivery. Just give us a call for more information or to place your order. Elvin Gordon – 919-601-5634.
You Know You Want One.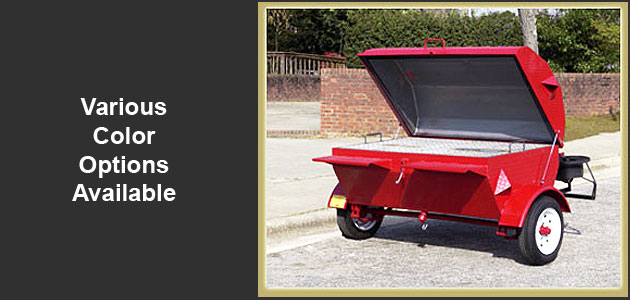 Black is our standard color.  Red, Regatta Blue, Royal Blue and other colors are available as an option.
Add 195.00 for a different color other than the standard black.
Two color cookers are no longer available.
Take A Closer Look At Carolina Pig Cookers:
Of all the cookers we've sold over the past years, we've never had one to come back. It just says how great these cookers actually are. We've got hundreds of satisfied customers and we're looking forward to adding your name to the list.
This is without a doubt one well built pig cooker. Whether you're an avid grill master, or just a backyard chef, this is THE one to have. Keep reading about all the great features below and we think you'll agree.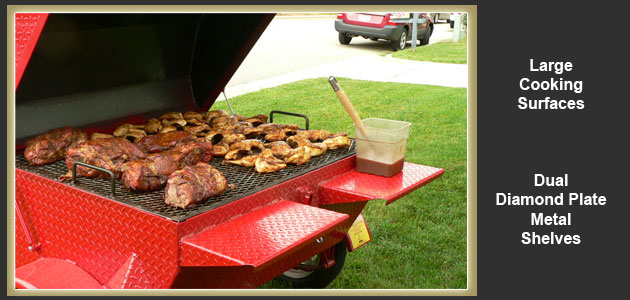 All of our cookers have dual Diamond Plate Steel work shelves and large cooking surfaces.
4-ft. Model:  48″ x 37″
5-ft. Model:  60″ x 37″

Gas Pistons on each side, make lifting the lid on our grills a one-hand operation.
Large Handles on our cooking grate makes it easy to remove for cleaning.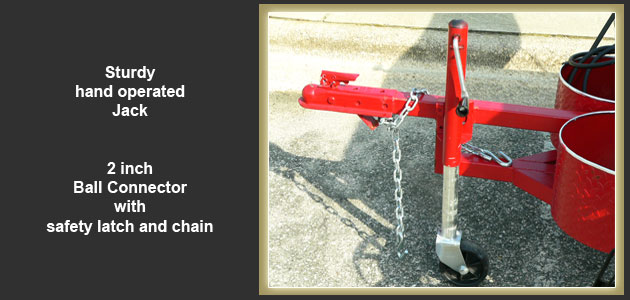 Pull your cooker in confidence with this 2-inch Ball Connector with safety latch and chain.
The sturdy hand operated Jack, lifts or lowers your cooker with ease.

12-inch tires pull your cooker down the Interstate or those back roads with ease.
We also offer a Spare Tire and Mount assembly as an option if desired.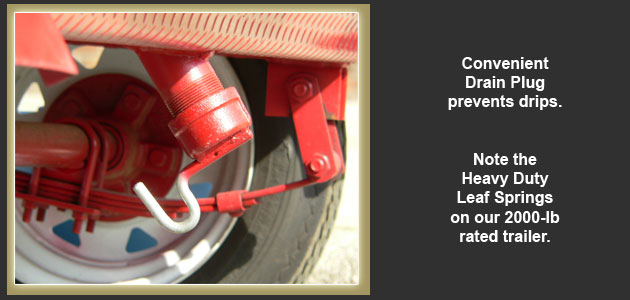 With our 2000-lb. rated trailer, you'll hardly know you're pulling your cooker behind you.
The convenient Drain Plug prevents drips and greasy driveways.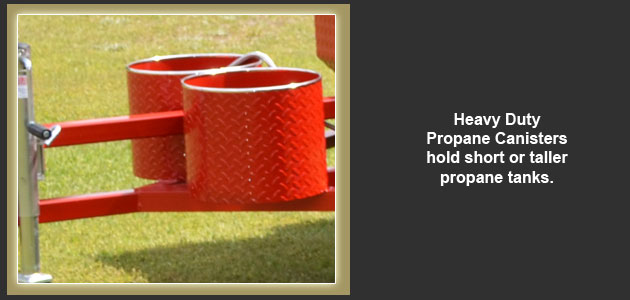 These heavy duty Propane tank holders, will hold either the small tanks, or the taller tanks.
4-ft. and 5-ft cookers come with dual canisters as standard equipment.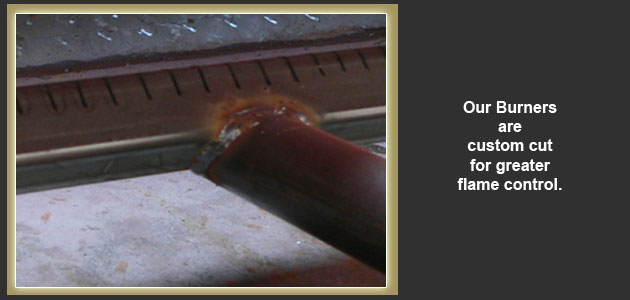 All of our cookers contain a single, heavy duty, burner.
Burners are custom cut for maximum flame control at all times.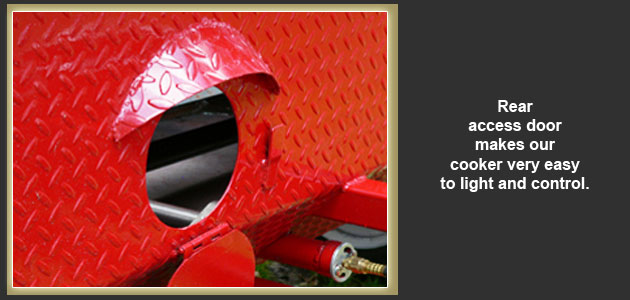 The rear access door drops down for easy access to the inside burner.  Easy to light and control.
Available options for your cooker.
Now, you can custom build the cooker of your dreams.
Add any of the following options to create the cooker that will best suit your personal needs.

Dual Outside Burners:  Our most popular add on.
Dual outside burners make it easy to cook your favorite side dishes. The burners have individual heat controls so you can operate one or both. Mounted on adjustable slides, they can easily be extended so you don't have to worry about a tall pot being struck when you raise the lid of the grill. And, they can be completely removed if desired.  Make your cooker a portable kitchen.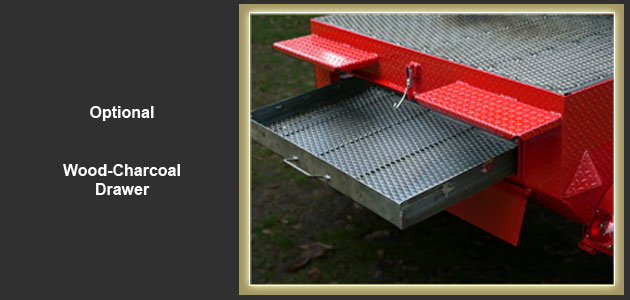 Wood-Charcoal Drawer:  Our 2nd best selling option.
Add the large, wood-charcoal drawer, to either your 4-ft. or 5-ft cooker.
We are now placing 2 smaller drawers in our 5ft cookers due to their weight. The 4ft cooker has just one single drawer as in the photo above.
The drawer allows you to cook with your favorite wood or charcoal, in addition to being able to cook with gas. This heavy-duty drawer can be left in when cooking with just gas, or removed, depending on your needs. It's the best of both worlds.  Cook with just gas, or cook with wood and charcoal. The option is now yours.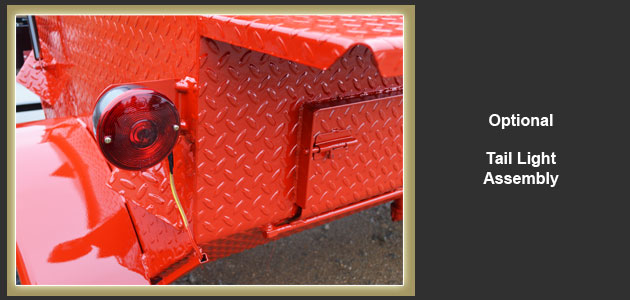 Tail Light Assembly:  Another very popular option, available on all cookers.
Planning to be on the road at night? Add the optional tail light assembly and pull your cooker in both style and safety. Lights are mounted on the side of the cooker with the electrical line running through a channel that goes underneath the cooker and up to the tongue.  Most of the wiring is safely tucked inside the channeling, out of the way, and protected against damage. Some states may require lights, be sure to check your state laws if in doubt.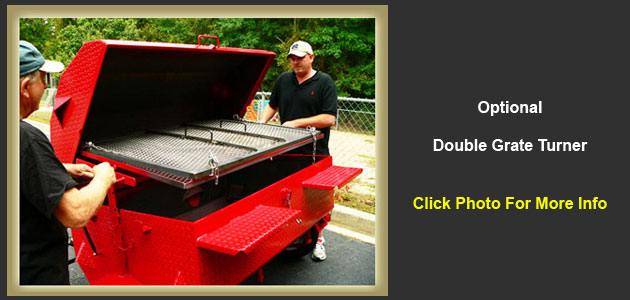 Double Grate Turner:  Turn a whole pig, or a cooker full of chicken, with just one flip.
The Double Grate Turner makes flipping a pig a one man operation. Click the photo above for more information.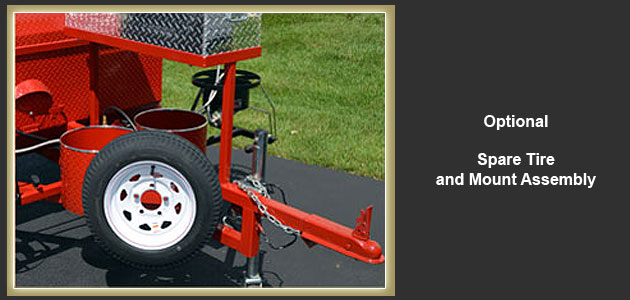 Spare Tire and Mount Assembly:  It pays to be prepared.
We don't expect you to have any trouble with the tires on your cooker, but still, it never hurts to be prepared. Pulling your cooker down the highway is a breeze.  We've pulled them all over the East Coast making our deliveries and hardly notice we have one behind us. Keeping a spare tire handy is not only smart, it also looks really good.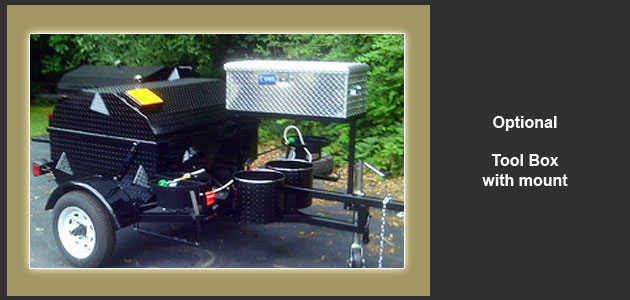 Tool Box with mount:  Lock and key included.
Now you can keep all of your grilling tools and other essentials close at hand.  From grilling gloves, to all your barbecue tools, you'll never have to scramble around looking for them again, when you keep them in this heavy duty toolbox.  It comes with its own lock and key so you can hang on to those favorite tools for years to come.  Let us add one to your grill, no matter which size you select.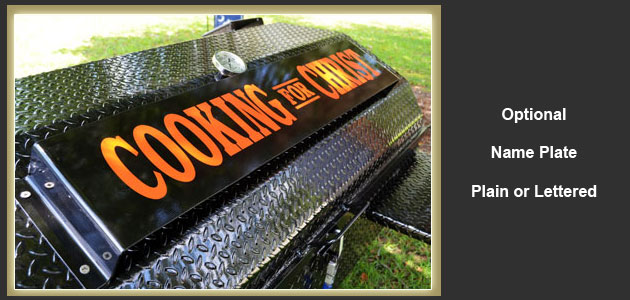 Name Plate:  Available with or without custom lettering.
Blank Nameplate available as an option
Lettering is available as an option
Whether you use your cooker for your business, or just want to show some team support, you can easily add a custom name plate to your grill. Order it blank and letter it later, or let us get it lettered for you. We don't do the lettering in our shop, so it may take a little extra time to complete your order, but we'll be happy to customize one for you. The name plate has a flat surface and is raised up off the cooker by about an inch or more.  It's even possible to add this to a cooker you may have already purchased from Carolina Pig Cookers.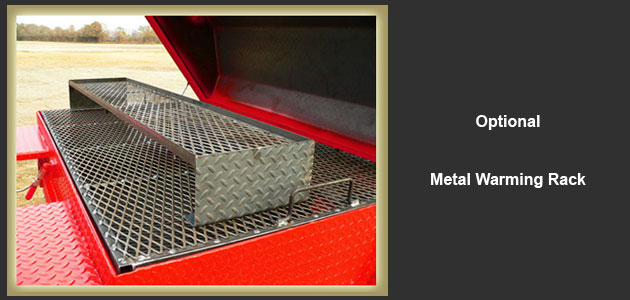 Metal Warming Rack:  Add more space inside your cooker.
The metal warming rack is available as an option for all of our cookers. Placed on the cooking grate inside your grill, it's a great place to keep meats warm, while other items are still cooking.  Place pans of baked beans on the rack, or roast some corn, you'll find lots of new uses for this neat little rack.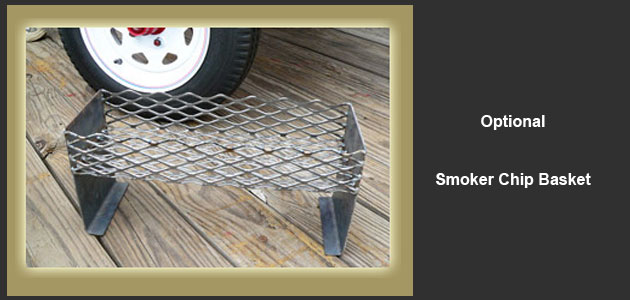 Smoker Chip Basket:  Add some smoke to your gas cooker.
The Chip Basket sits on the bottom inside your cooker. We generally place it near the door that is used to light the cooker, so we can add more chips through the opening if desired. The Chip Basket doesn't get hot enough on its own to generate smoke so here's how we do it. Place a couple of pieces of charcoal inside the basket and light it. When the coals are hot and ready, add the wood chips. The charcoal is used to heat the chips and create the smoke. Now you can have all the flavor of smoked meat, with your gas cooker.  How hot is that?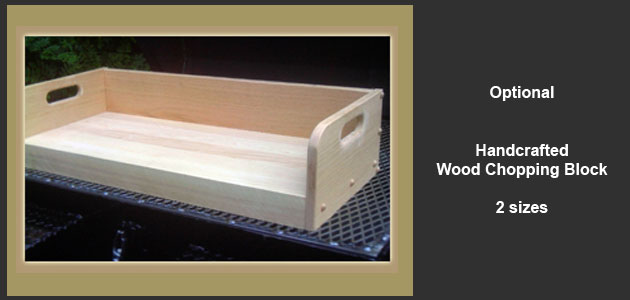 Handcrafted Wood Chopping Block:  Large or Small sizes available.
When you're ready to chop some barbecue, you'll need a great chopping block.  These handcrafted chopping blocks make the job easier and are easy to transport from one event to another.  We've got two sizes available, depending on your needs.  Both blocks are 3-inches thick and have convenient carry handles.  The raised sides help you keep the meat on the block and not on your guests.
Small Chopping Block:  28″ x 16″ x 3″
Large Chopping Block:  38″ x 16″ x 3″
Additional Specifications:
Solid Diamond Plate 14-Gauge Metal Construction:
4ft models are solid 14-gauge throughout.
5ft models have a 14-gauge top with a 12-gauge bottom.
Solid Weld Commercial Grade Welding:
Our cookers have "solid welds", unlike other cookers which have "stitched" welding. That means others place a short welding stitch ever so often along the path of the seam. Our solid welds provide more secure bonds of metal parts with less likelihood of breaks.
2,000 lb Trailer Axle and Suspension:
Take another look at the photos and you'll see just how sturdy this cooker is. Although the cooker only weighs about 500-600 lbs., we place it on a 2,000lb load trailer to add great stability to our units. You'll be able to tow it around with confidence anywhere you need to go.
2″ Ball Coupler, Wind Up Jack, Safety Chains:
The coupler is quick and simple to hook up to your vehicle for easy towing. The quick wind up jack allows you to lower or lift the end as needed. Safety chains make double sure your cooker stay's connected. Pull with confidence.
Pneumatic Wheels:
The large 480×12 wheels provide a smooth ride for your cooker. Load it up with a whole hog and pull it to your site. Go ahead…it can handle it.
Gas Shock Lifts For The Top:
Dual gas shocks provide easy one hand operation of the cooker top. No need to strain yourself trying to get the lid open to see all the cooking action. The top goes up easy and lowers easily. A convenient latch helps lock it in place.
Large Cook Surface:
4ft. Model – 48″ x 37″
5ft. Model – 60″ x 37″
From whole Bar-B-Q pigs to steaks, hotdogs or burgers…this cooker can handle it for you. The large metal cooking surfaces allow for lots of family food fun. You might even want to invite the neighbors or Uncle Bob. Large handles on each end make it easy to lift the grate for cleaning or transporting cooked meats. Take another look at the close up photos above and look at the framework that goes around the cooking grate. This keeps the cooking grate FLAT all the time. Cheap cookers don't have this and once the cooking grate starts getting hot, it will try to curl or warp. Our frame want allow that to happen.
Cook with Gas, Charcoal, Wood Or all three:
You can purchase either an all gas cooker or one that will cook with charcoal and wood also. See the available options listing for pricing depending on your specific needs.
Cooking Temperature Range:
Temperature range for this cooker is 185-450 degrees.
It can handle anything from hot dogs to steaks to whole hogs easily.
A heavy duty thermometer is attached to the top of the cooker for easy viewing.
CAUTION:  Filling the wood-charcoal tray with charcoal can cause the cooker to reach temperatures well over 500º.  Leaving the lid closed for any length of time at such high temps can cause paint damage to the lid of your cooker and possibly warp the cooking tray.  We always suggest that you start the cooker with no more than 5-lbs of charcoal to learn just how well it cooks with a small amount, then make adjustments accordingly.
U.L. Listed Regulator & Hose Assembly:
All of our units have a U.L. listed adjustable gas regulator and hose assembly with a brass control valve. Propane tank holders are connected to the trailer itself to hold your tanks safe and securely in place throughout the cooking process.
Dual Outside Gas Burners: (optional)
Need to cook some other items as well? Add 2 outside gas burners to your grill and have everything you need to cook the main meats and the side dishes all at the same time. See the price listing for details.
Dual Utility Shelves:
We've placed 2 utility shelves right where you need them. We recently replaced our one long wooden shelf with these sturdy diamond plate metal shelves. Keep those spices, sauces and utensils right at the grill.
Easy Cleanup:
You've worked hard to make your cookout a success, you don't need to work harder to clean up afterwards. All our cookers have a convenient drain plug at the bottom to help speed up the process.

Which one will it be?
..