WIN a 4ft RED Cooker
WE'VE GOT A WINNER!!!
$5,780.00 Raised to help homeless families.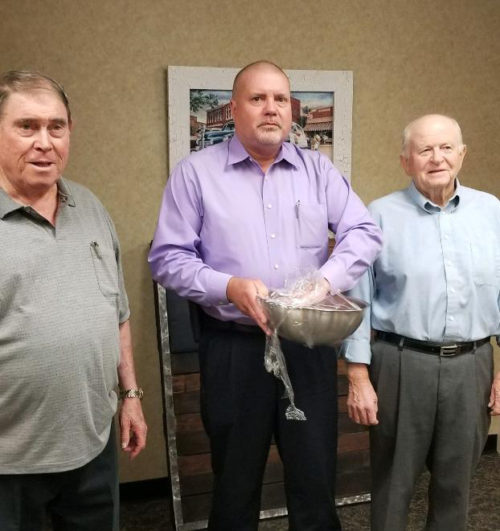 Lee County Sheriff Tracy Carter drew the winning entry for our cooker giveaway to help those still homeless following the hurricane and flooding of 2018 in Eastern North Carolina.
Frank, on the left, sold the most tickets among the church members of Sanford Church, sponsor of the drawing. That's Elvin Gordon, owner of Carolina Pig Cookers on the right.
…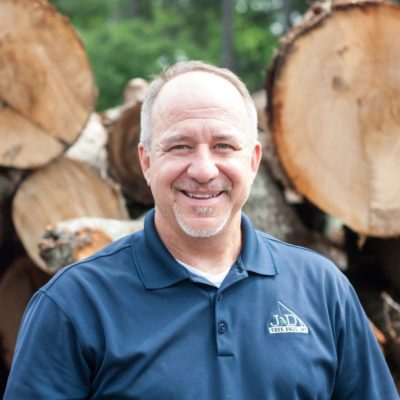 Congratulations to Dan McMains. from Apex, North Carolina, winner of our 4ft Red Cooker Giveaway to help the families still homeless following the hurricanes and flooding of 2018 in Eastern North Carolina.
Dan has made an additional $500.00 donation to help those families. How cool is that?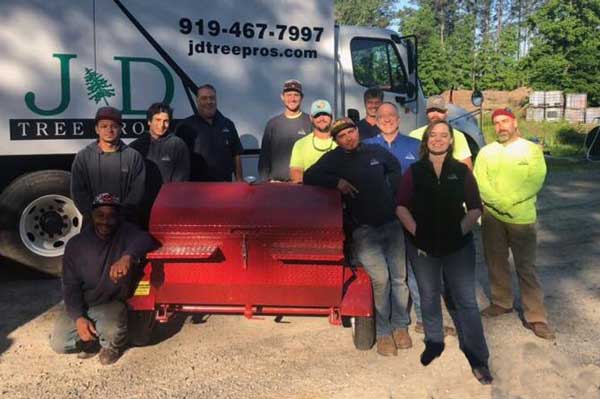 Dan is the owner and operator of J&D Tree Pros out of Apex, North Carolina and is one really nice guy. Dan has helped remove fallen trees after many storms and hurricanes and fully understands the need that folks have once disaster hits. His crew is all to familiar with such situations.
Dan plans to use his new cooker when his crew is working out of town to keep them well fed. Thank you Dan for all that you do to help those in need.
We're so thankful to everyone that purchased tickets. You all are winners in our book, and we know the families receiving help will be most thankful as well.
..
This is how it went.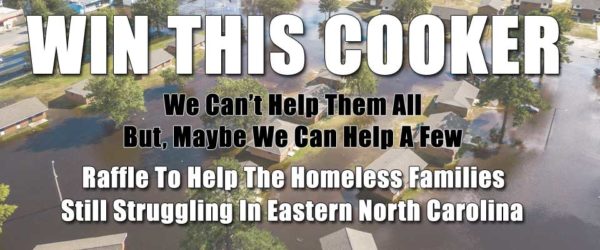 Help the homeless families still struggling in Eastern North Carolina
…
Last year, Eastern North Carolina took a hard hit with Hurricanes and severe flooding that affected thousands upon thousands of families.
Many of those families remain homeless and still in need of help.  We can't help them all, but maybe we can help a few. And, we'd like to ask you to join us as we endeavor to do just that.
Carolina Pig Cookers has donated a 4ft RED Cooker to our local church, the "Sanford Church of God."
Through the church, we are going to raffle off this cooker. We have limited ticket sales to 400, and ticket donations are just 20.00 each. The drawing will take place on May 02, 2019. We hope to get our local Sheriff to pull the winning ticket. Winner will be contacted and then announced here on our site.
The Sanford Church of God will turn over all the money collected to a fellow church in Eastern North Carolina and that church will distribute the money to the homeless families still in need.
Here's how you can help.
Cooker Raffle to help Flood Victims in Eastern North Carolina.
100% of the funds collected will be given to help families that are homeless and/or in need in Eastern North Carolina following the flooding and hurricanes of 2018. We appreciate your help.
Donation amount: $20.00 each
Please follow these steps.
Make your check or money order payable to:  Sanford Church of God
Please write "Flood Donation" in the lower left hand note section on your check.
Include your phone number if it's not printed on your check. We must have this to contact you if your name is selected as the winner of the cooker.
Mail to:
ATTN: Elvin Gordon
Sanford Church of God
2105 Pathway Circle
Sanford, North Carolina  27330
We can either text you a photo of your entry stub, or we can mail the ticket stub to you at your request. Texting a receipt will save us on postage if that works for you.
Drawing will be held on May 02, 2019. Drawing is limited to no more than 400 tickets.
If you win, you have the option to pick up your cooker, or to receive the 2,000.00 value as a cash prize.
Thank you for helping the families still in need in the Eastern portion of North Carolina. Your participation is greatly appreciated and we wish you the best.
If you have any questions, please let us know. May God bless you for your support.
Be Blessed!!!
The Gordon Family
..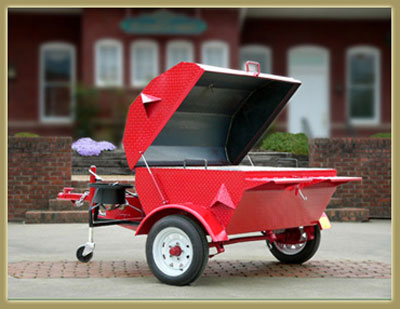 Win a 4ft RED Carolina Pig Cooker grill.
Add additional options at your own expense if desired, or take a 2,000 cash prize instead.
Delivery of the cooker is not included, but could be arranged for an additional fee.
.