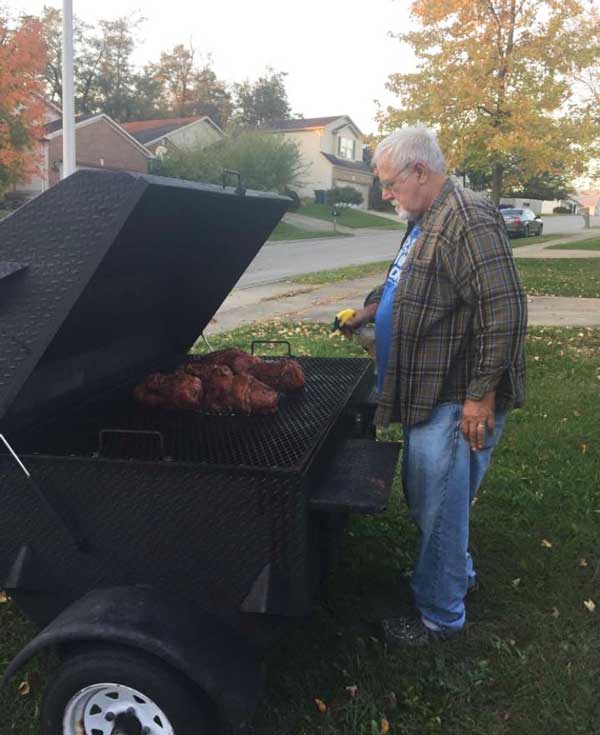 David D., from Kentucky, shares his thoughts on his Carolina Pig Cookers grill.
…
We love it when customers send us a great testimonial about their love for our grills.
Recently, David D. up in Kentucky sent us an email to share his thoughts on his cooker. I sent back and asked David if he could send us a photo of him using his cooker, and if he would be willing to let us use his comments here on our website.
Here's what David sent us…
I bought one of your cookers when you first started making them. I drove all the way from southeast Kentucky to buy it. I got the 4 ft model with the charcoal drawer and the 2 side burners. I have cooked numerous whole hogs and anything from whole hogs to hot dogs. This unit is still in good shape and performs like it was brand new and believe me I have used it a lot. Never seen a cooker that you can set the temp and it will hold exactly to that temp like your cookers do. Just wanted you to know that I have really enjoyed cooking on this cooker and it performs perfectly after all these years and for whatever you need to cook. Keep up the good work. I have recommended this cooker to everyone that has any contact about cookers. Thanks again
David D.
…
Thank YOU David, for sharing your comments about our cookers. We're super excited to know that you're still enjoying your cooker so much. We appreciate you taking the time to write, and thank you for letting us use your comments here on our site.
Be Blessed!!!
The Gordon Family
..
Category: Owner Submitted Photos, Photo Gallery