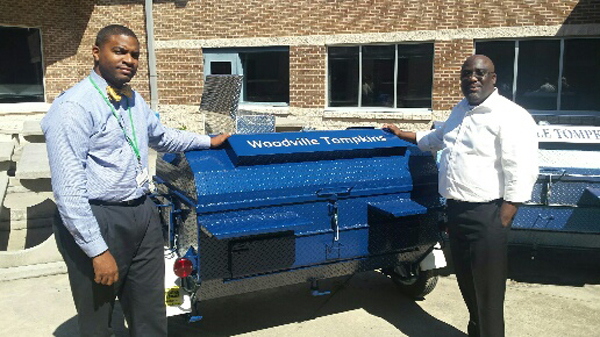 June 13, 2017
Woodville Tompkins Principal, Alfred McGuire (left) and Chef Carly Dyson-Bosier.
…
We delivered another cooker to the Woodville Tompkins Technical High School in Savannah, Georgia.
The school purchased their first Carolina Pig Cookers grill a couple of years ago, and the students decided they would like to have another one.
Woodville Tompkins High School purchased a…
5ft Gas Cooker, custom painted Royal Blue and White
Dual Outside Burners
Wood-Charcoal Drawer
Tail Lights
Tool Box
Spare Tire
Double Grate Turner
Warming Rack
Chip Basket
Nameplate
Nameplate Lettering
Large Chopping Block
It's exciting to know that your students will be learning to cook and working with our Carolina Pig Cooker grills. Thank you for your confidence in us and for your purchases. We'll be waiting for #3.
We trust you'll enjoy your cookers for many years to come.
Be Blessed!!!
The Gordon Family
..
Category: New Customers, Photo Gallery