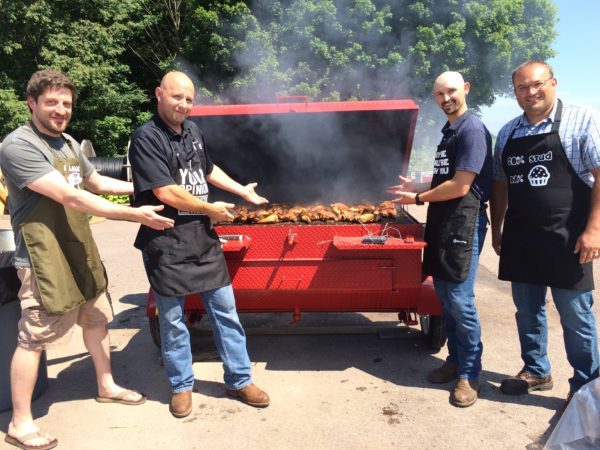 Eric G. and friends – Oakland, Maryland
This is Eric from Oakland, Maryland showing the 80 pounds of chicken he cooked first on his new Carolina Pig Cookers grill.
Eric drove down from Maryland and met us near Charlottesville, Virginia to take delivery of his new cooker. When possible, we often meet customers at a halfway point to help save on delivery costs.
We didn't get a photo of Eric the day he received his cooker but he promised to send us one. Eric did that the following day saying "I wasn't home 12 hours before I had 50 half chickens smoking on it. 81 pounds. They turned out great"!
We're glad you're enjoying your new cooker Eric and we sincerely appreciate the purchase.
Eric purchased a…
5ft Red Cooker
Wood-Charcoal Drawer
Dual Outside Burners
Keep up the great work Eric. We hope you'll continue to enjoy your cooker for many years to come. It was a pleasure to meet you.
Be Blessed!!!
The Gordon Family
..
Category: New Customers, Photo Gallery