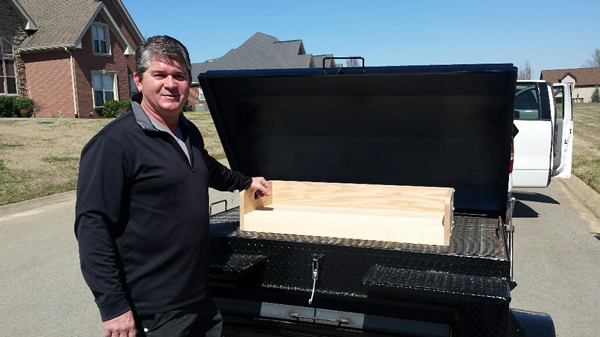 March 16, 2017
…
Had the pleasure to deliver this cooker to Alan in Mt. Juliet, Tennessee on a cold but beautiful day.
Alan is the new owner of the following:
5ft Black Gas Cooker
Wood-Charcoal drawer
Smoker Chip Basket
Large Chopping Block
Alan had already ordered a whole hog to cook on his cooker by the time we arrived.
When he isn't cooking, Alan operates a charter bus service out of Nashville. You can learn more about it by clicking here: Wise Coaches.
If you're planning a trip and need a good charter bus service, give Alan a call.
As it would happen, I spotted four Wise Coaches headed back towards Nashville on my return trip home.
Thank you for your purchase Alan. It was a pleasure to meet you and we trust you'll be enjoying your cooker for many years to come.
Be Blessed!!!
The Gordon Family
..
Category: New Customers, Photo Gallery