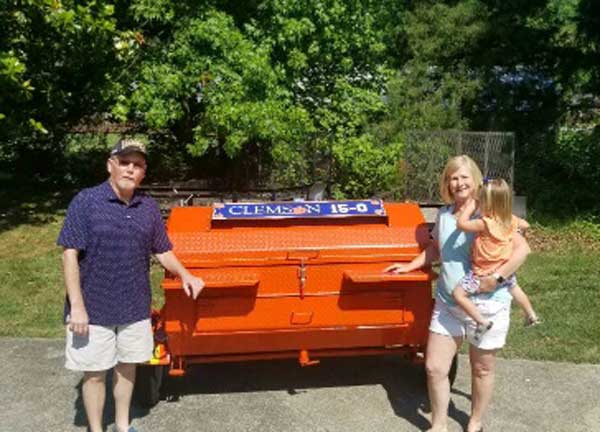 Richard M. – Rock hill, South Carolina
We delivered this beautiful Clemson Orange cooker to obviously a big Clemson fan, down in Rock Hill, South Carolina. Richard wants to let everyone know about the 15-0 Clemson record.
Richard purchased a…
5ft Clemson Orange cooker
Wood-Charcoal Drawer
Dual Outside Burners
Warming Rack
Spare Tire
Lights
Nameplate
Lettering for the Nameplate
Richard also requested a special sliding grate as a custom order for his cooker.
It was a pleasure to meet you and your family Richard. Thank you for your purchase of a Carolina Pig Cookers grill. We trust you will enjoy it for many years to come. We like your enthusiasm.
Be Blessed!!!
The Gordon Family
..
Category: New Customers, Photo Gallery