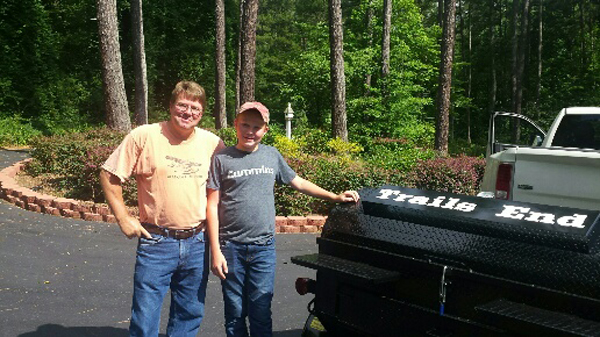 June 19, 2017
…
Garreth and his son, from Taylorsville, Kentucky.
These two made a road trip down from Taylorsville, Kentucky to pick up their new Carolina Pig Cookers grill. We didn't know what he might show up with to tow his grill since Garreth is an airline pilot. Thankfully, he brought his truck.
Garreth purchased a…
5ft Black Gas Cooker
Wood-Charcoal Drawer
Tail Lights
Nameplate
Nameplate Lettering
Double Grate Turner
Thank you for your purchase Garreth. It was a pleasure to meet you and your son.
We sincerely appreciate the purchase, and trust you'll enjoy your cooker for many years to come.
Be Blessed!!!
The Gordon Family
..
Category: New Customers, Photo Gallery